HOV Stickers are here and available now. Drive off in a New LEAF and use the HOV lane today.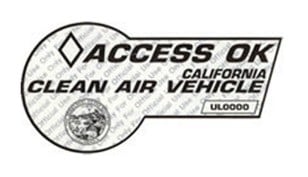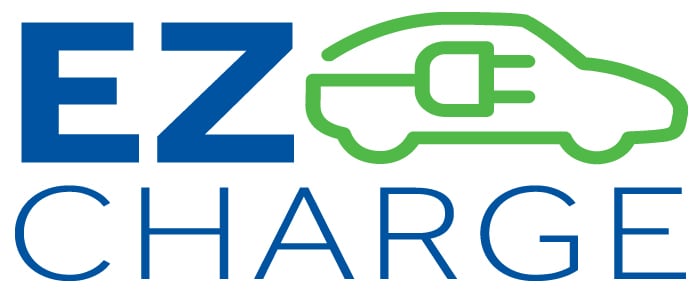 Get Complimentary Charging with a new Nissan LEAFNot only can you access multiple charging networks with the EZ- Charge card, you can do it at no cost for 2 full years through the exclusive Nissan No Charger To Charge program. Purchase or lease a new Nissan LEAF and there's no charge for an unlimited number of 30 minute DC Fast charges and 60 minute Level 2 chargers at participating Public No Charge To Charge locations for 2 years. Charging sessions beyond these lengths are subject to additional fees, depending on the network.
------------------------------------------------------------------------------------------------------------------------------------------------------------
Oct. 17, 2014
Nissan LEAF earns Good Housekeeping Research Institute "Tried & Tested" recommendation
2014 SL model recognized in magazine's 2014 buyer's guide, part of distinguished "Tried & Tested" series
NASHVILLE, Tenn. - Tried, tested and trusted, the 2014 Nissan LEAF SL is the top "Roomy Electric" vehicle pick in the Good Housekeeping November buyer's guide as selected by the experts at the Good Housekeeping Institute (GHI). The world's best-selling electric vehicle is one of eight cars selected in their annual 2014 car review. LEAF was specifically noted for its "impressive" cruising range, value enhanced by available federal and state tax incentives and segment-exclusive Around View Monitor, great for parking or backing out.  Good Housekeeping's top cars were picked based upon track performance, performance while driving on suburban roads and highways, as well as evaluations on the ergonomics and convenience features of the vehicles.  "As more than 64,000 American LEAF owners will tell you, the economics of going electric are simple: Buy a Nissan LEAF and save money by conveniently charging at home instead of paying more at the gas pump," said Fred Diaz, senior vice president, Nissan Sales & Marketing and Operations, U.S. "But the real beauty of the Nissan LEAF is that it's roomy and, best of all, fun to drive, which is why it received this honor from the Good Housekeeping Research Institute."  With more than 142,000 LEAF sales globally since launch and more than 64,000 in the U.S., Nissan is the global leader in electric vehicles. LEAF seats up to five passengers and boasts an EPA-estimated* driving range of 84 miles on a fully-charged battery and MPGe ratings of 126 city, 101 highway and 114 combined. The starting price of a Nissan LEAF is about $22,000** after the available maximum $7,500 federal tax credit, while providing the benefits of lower running costs and less scheduled maintenance.  LEAF is powered by an advanced lithium-ion battery and an 80kW motor that provides a highly responsive, fun-to-drive experience.  The all-electric Nissan LEAF is offered in three trim levels, and shoppers can choose from a variety of available premium features such as leather seats, 17-inch alloy wheels, 7-speaker BOSE® energy efficient audio system and an available 6.6kW onboard charger that significantly reduces charging times on a 240V charging dock.  To view GHI's product reviews, please visit http://www.goodhousekeeping.com/product-reviews/. You can see the vehicles selected in the November issue of Good Housekeeping, which is on sale today.
About Nissan North America
In North America, Nissan's operations include automotive styling, engineering, consumer and corporate financing, sales and marketing, distribution and manufacturing. Nissan is dedicated to improving the environment under the Nissan Green Program and has been recognized as an ENERGY STAR® Partner of the Year in 2010, 2011, 2012, 2013 and 2014 by the U.S Environmental Protection Agency. More information on Nissan in North America and the complete line of Nissan and Infiniti vehicles can be found online at www.NissanUSA.com and www.InfinitiUSA.com, or visit the Americas media sites NissanNews.com and InfinitiNews.com.
About Nissan
Nissan Motor Co., Ltd., Japan's second-largest automotive company, is headquartered in Yokohama, Japan, and is part of the Renault-Nissan Alliance. Operating with more than 244,500 employees globally, Nissan sold almost 5.2 million vehicles and generated revenue of 10.5 trillion yen (USD 105 billion) in fiscal 2013. Nissan delivers a comprehensive range of more than 60 models under the Nissan, Infiniti and Datsun brands. In 2010, Nissan introduced the Nissan LEAF, and continues to lead in zero-emission mobility. The LEAF, the first mass-market, pure-electric vehicle launched globally, is now the best-selling EV in history with almost 50% share of the zero-emission vehicle segment.  For more information on our products, services and commitment to sustainable mobility, visit our website at http://www.nissan-global.com/EN/.
About the Good Housekeeping Institute
The Good Housekeeping Institute (GHI) is the product-evaluation laboratory of the magazine, with a staff of scientists, engineers, nutritionists, and researchers dedicated to evaluating and testing everything from moisturizers to bed sheets to cell phones. Also part of GHI is the test kitchen, which creates, tastes, and triple-tests (at least) the thousands of recipes appearing annually in the magazine and on goodhousekeeping.com.
The Institute was founded in 1900 to improve the lives of consumers and their families through education and product evaluation. It has departments specializing in consumer electronics and engineering, to test appliances like flat-screen TVs and refrigerators; health, beauty, and environmental sciences for beauty and hair-care products; textiles, paper, and plastics, which analyzes fiber-based products like sweaters, suitcases, and backpacks; and the editorial test kitchens to assess foods' nutrition claims and create low-cost, family-friendly meal solutions. Results from GHRI's product evaluations are published in each issue of Good Housekeeping under the rubric "The Test" and on the Product Reviews channel on goodhousekeeping.com.
# # #
*2015 EPA Fuel Economy Estimate 126 city, 101 highway. Based on EPA formula of 33.7 kW/hour equal to one gallon of gasoline energy, EPA rated the LEAF® equivalent to 126 MPG measured as gasoline fuel efficiency in city driving, and 101 MPG in highway driving. Actual mileage may vary with driving conditions - use for comparison only. 2015 EPA range of 84 miles.
**2015 Nissan LEAF as low as $21,510 net value after maximum federal tax credit of $7,500. MSRP $29,010. Dealer sets actual price. Prices and spec are subject to change without notice. Excludes tax, title, license and destination charges. The incentive referenced is for informational purposes only. This information does not constitute tax or legal advice. All persons considering use of available incentives should consult with their own tax or legal professional to determine eligibility, specific amount of incentives available, if any, and further details.
-----------------------------------------------------------------------------------------------------------------------------------------------------------
Michael Strong , The Detroit Bureau
Top 10 fuel-efficient cars for 2013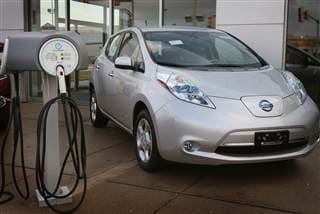 Scott Olson / Getty Images
The Nissan Leaf, on display in Niles, Ill. in December, is the most popular fuel-efficient, or "green" car.
With gas prices in a constant state of flux, and the federal government offering as much as $7,500 in incentives to buy "green" cars, it would seem the only question for someone buying a new vehicle should be, "Which one do I pick?"
Kelly Blue Book
attempts to answer that question with its list of Top 10 Green Cars for 2013. The car in the top spot shouldn't be a big surprise: the 2013 Nissan Leaf.
"You won't find an all-electric car that offers a better balance of range, practicality, refinement and value than the Leaf," according to the story on the company's website. "Nissan reduced the Leaf's starting price by $6,000 for 2013, so after the $7,500 federal tax savings, you can go all-electric for about $22,000."
Kelly Blue Book's top 10 "green" cars:
Nissan Leaf
Tesla Model S
Ford Focus Electric
Chevrolet Volt
Prius Plug-in
Ford C-Max Energi
Volkswagen Jetta Hybrid
Honda Fit EV
Toyota Avalon Hybrid
Lincoln MKZ Hybrid
To view the full article click here
Copyright © 2009-2013, The Detroit Bureau