Michael Strong , The Detroit Bureau
Top 10 fuel-efficient cars for 2013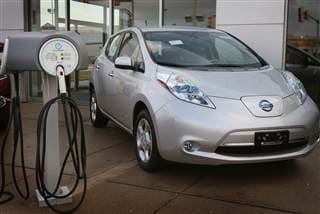 Scott Olson / Getty Images
The Nissan Leaf, on display in Niles, Ill. in December, is the most popular fuel-efficient, or "green" car.
With gas prices in a constant state of flux, and the federal government offering as much as $7,500 in incentives to buy "green" cars, it would seem the only question for someone buying a new vehicle should be, "Which one do I pick?"
Kelly Blue Book
attempts to answer that question with its list of Top 10 Green Cars for 2013. The car in the top spot shouldn't be a big surprise: the 2013 Nissan Leaf.
"You won't find an all-electric car that offers a better balance of range, practicality, refinement and value than the Leaf," according to the story on the company's website. "Nissan reduced the Leaf's starting price by $6,000 for 2013, so after the $7,500 federal tax savings, you can go all-electric for about $22,000."
Kelly Blue Book's top 10 "green" cars:
Nissan Leaf
Tesla Model S
Ford Focus Electric
Chevrolet Volt
Prius Plug-in
Ford C-Max Energi
Volkswagen Jetta Hybrid
Honda Fit EV
Toyota Avalon Hybrid
Lincoln MKZ Hybrid
To view the full article click here
Copyright © 2009-2013, The Detroit Bureau